Wishing all of you...
SELAMAT HARI RAYA AIDILFITRI
MAAF ZAHIR dan BATIN
and the most handsome astronaut on earth....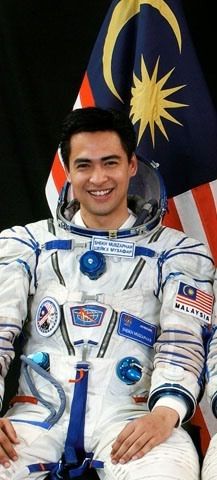 Dr. Sheikh Muszaphar Shukor
***picture taken fron NASA website

Selamat kembali ke bumi!!
Walaupon sesetegah org kata dia bkn angkasawan....dia hanyalah "participant".Yes, he's a participant of Expedition 16. Ia merupakan perjanjian timbal balik antara Malaysia dan Russia atas pembelian pesawat Sukhoi.
Walaupon ada sesetegah org kata dia hanya melancong di angkasa. Org tidak tahu bagaimana susah nya dia bersaing dgn berbelas ribu yg lain dr segi ketahanan fizikal dan mental utk sampai ke tahap ini.
As Malaysian (and a woman of course!) , I'm proud to have a guy and a MALAYSIAN who brave to put all his
machoness
outer the space.
I'm sure loads of girls and women waiting for him to arrive at Malaysia...
And I'm thinking to go to Restoran Rebung after this...hehehehhe