I'm so tiring with high heels lately. Even I could wearing up to 8 hours in one day till I can't resist my 3 1/2 inch stilettos. I used to be in flip-flops in casual but sometime it's no longer looks proper in a
*certain place*.
The bf pon tak suke sbb kdg2 dia kata nampak selekeh? Ye ker? "Sempoi" la kot bg saya. Still, when you enter the high street fashion mall / outlet, their SA will have "that look"
*errr...you knew what kind of look*
mayb I should start collecting the flats instead of high heels. *winks*winks
I found some flats that are nice to wear. *Plz ignored the price & brand.. you might found the similar around you if you want*
Flat #1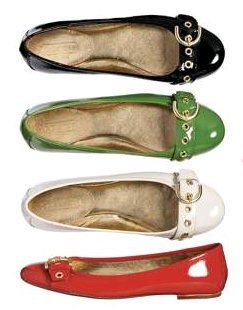 It's from Coach. A usual patent flats that can be found in any brands. I saw similar pair at Sembonia.
Buy at Coach.com / Outlet
Flat #2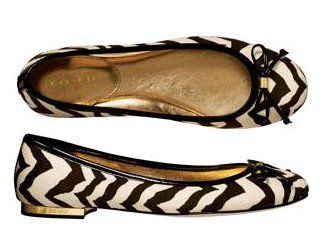 Zebra patent from Coach. *Coach lagi?* I'm looking similar to this. If anyone saw, pls msg me. It fits you in casual days or formal. Siapa kata g opis kite tak le pakai Zebra patent?
Flat #3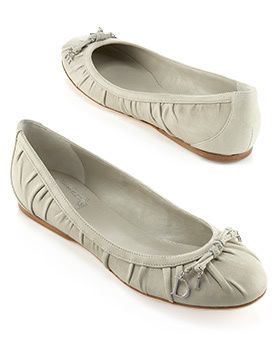 This white suede is from Dior. Normal patent but has "DIOR" chain in front. Sgt "off brand" la kan? Menunjuk-nunjuk gitu. But I like the way it made. Simple and elegant.
Flat #4

This one is an ordinary grey studded from Topshop. Again, it's simple and sleek. Made from leather. If you're looking for flats / shoes in Topshop, please aware of "PIG SKIN LINING" symbol for Muslim. *Jgn jd mcm org tu..Pig Skin Lining pon bantai..pastu mcm menyesal opssss larrriiiiiii*

Buy it at Topshop Outlet


Flat #5
This one would also from Topshop. I really want this!! The black black patent leather with combination of white leather give you a sophisticated looks. I must start hunting! Yg penting, bole di bawa ke opis juga. *Harap-harap bukan PSL*
Buy at Topshop Outlet
Flat #6


It's floral printed flat from GAP. By from canvas. Pretty sweet and chicks. One this I love canvas that there will no blisters to your feet. But....it's easy to get stain. Lagi-lagi bila korang pakai pastu redah hujan kan? So tau la keadaan kasut tu mcm mana. This definately for my "lepak session".
Flat #6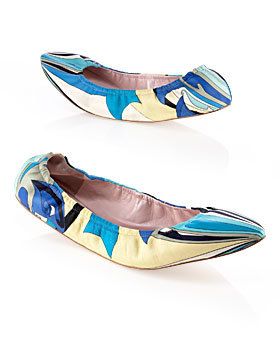 This the most my favorite amongst all. It's from Pucci. Pucci known as his design in "abstract print". From the blouse to the scarf and now shoes. But the price as you pay the designer name. It would cost you bomb for a printed flat without knowing it a designer shoe. Kan kan? Nevermind, I'll find the similar one.
**PSL = Pig Skin Lining
Sayang, now you know which one I want kan? Hikhik..